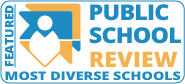 http://www.publicschoolreview.com/allen-ellender-school-profile
Mission Statement
Allen Ellender School community is strategically committed to provide students with opportunities to develop problem-solving, communication, and technological skills to function effectively and intelligently in a competitive global society.  All students will demonstrate proficiency or above according to State and District standards.
Vision Statement
We envision Allen Ellender to be a high performing school by nurturing students in a vibrant learning environment that will foster academic achievement.
Our Beliefs
Teachers utilize innovative ways to engage students in achieving their goals.
School personnel are accountable for implementing a curriculum that results in exceptional student performance.
Students are motivated, inquisitive, challenged, and actively involved in learning.
Students learn and gain respect in a positive school environment.
Our various school communities respect educators and students and celebrate their achievements.